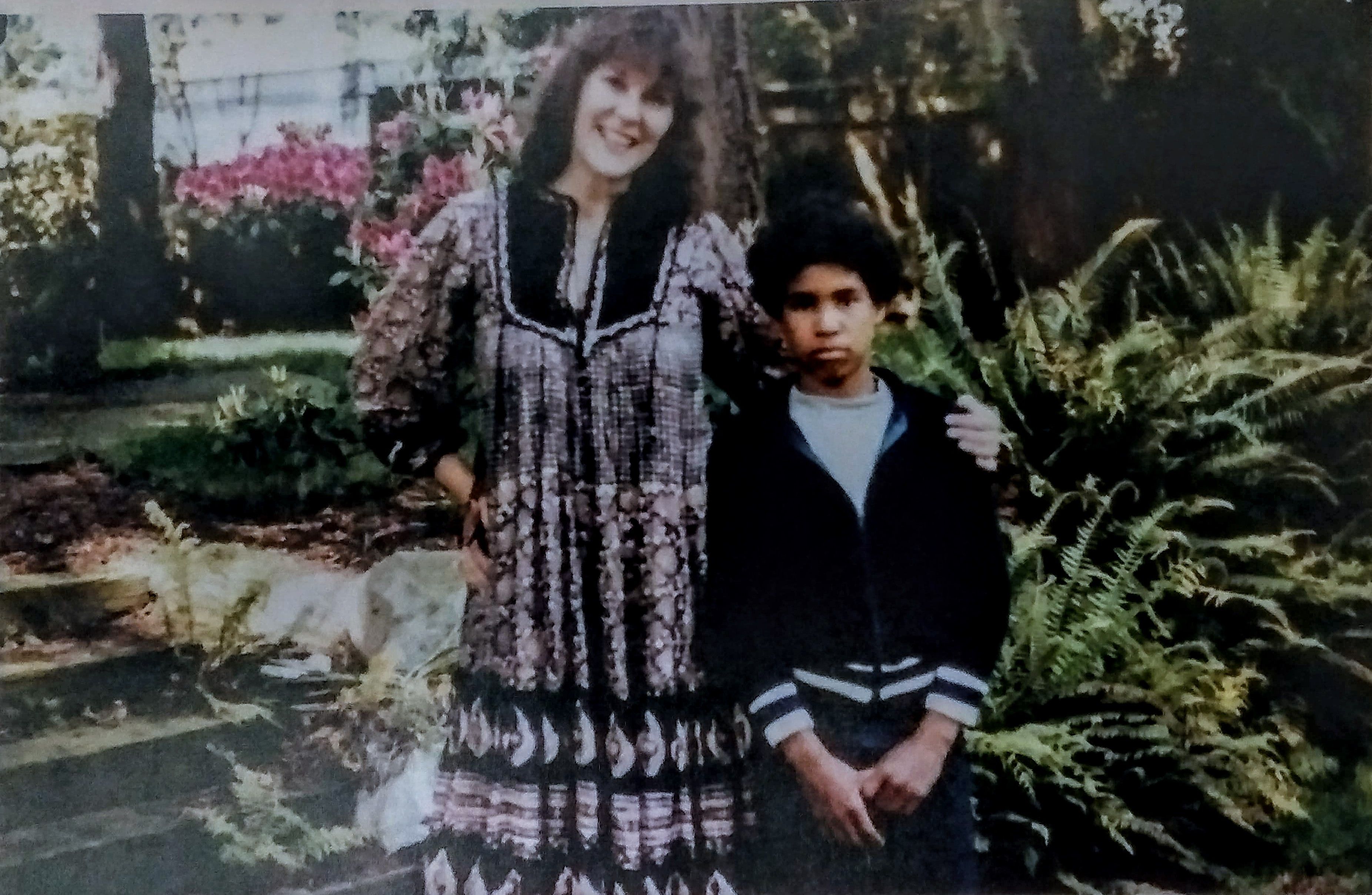 Some relationships are for a lifetime...and others are just long enough to remind you of the importance you play in each other's lives. They arrive with perfected timing in what feels like a never-ending exchange of smiles, all in design of your mutual approval and shared principles. Then there're those other relationships that require just a feeling; it's a feeling of immediate trust and in need of no greater approval than the exchange of words being spoken. 
This picture is of me and my most glorious and terminally-beautiful Aunt Joan on my first of two visits, as a child, to see her at her home in Seattle, Washington. My Aunt Joan is my momma's youngest and the last living of their four siblings...and even though we had thousands of miles with many years between visits, some relationships are just right and meant as a reminder of not only their importance, but of how things could have been if those relationships had not actually happened. 
If you've ever been lucky enough to have an Aunt Joan or that person of most unexpected influence… well, I've learned to always have respect for those who know things, for those who've done some living and for those who actually care enough about you and know when and how to say, "Are you done?...because I love you and I'm your Aunt Joan and it's time for you to listen." Just like my momma, my Aunt Joan can create quiet when needed in a conversation between two people. 
It's that rarest of rare quality of human being...having the diplomacy and inner strength for listening and doing so kindly, without the need to be judgmental. You look up from the facedown, head-in-hands feeling of shame, to only ever find the consistency and the kindness of their smile, as you try to negotiate with the feelings of vulnerability created by the story or information their love has helped you find the strength to share. 
Their personal design is unlike others; their importance to the world is greater than most, and their daily lift of life's responsibilities is heavy...and long. So each conversation goes a bit deeper in its intended purpose and steers you towards that inner path of redemption, while helping to open your heart in a way that feels like a cleansing of the soul. They come with a sensitivity...with this innate willingness to care, while slowly empowering you to have the much-needed, hard conversations that others have spent a lifetime trying to avoid or have been afraid to address. 
My Aunt Joan has unselfishly occupied that huge void left in my heart since the passing of my momma...who is so greatly missed. She's helped me see things for what they are; she's helped me to better understand the politics of fear within any and all families and, most importantly, she helped me to see who and what I am and where and how it is that I fit in moving forward. 
And as all the great women do, she chose to do so with this most forgiving heart and an unbelievable amount of patience, exemplified in her "no-rush, no-hurry" willingness to listen, while still using that most incredible womanly gift of influence...planting the seeds of change to help me make sense and let go of a lifetime of fear, shame and the sadness that's forever filled my heart. 
Regrettably speaking, my Aunt Joan is now challenged with the negotiation of placement and what comes next in her life… when and/or how long she has is unknown to me. My Aunt Joan has not only changed my life but she told a family member recently, that my life was one of the responsibilities of her life. I've had some most incredible women come through my life, two of whom are my Momma and my Aunt Joan... and there's another waiting for me back in Detroit!!... 
I think sometimes people come into our lives hard and fast but do so to ensure that there's no chance of ever forgetting their importance or the power of their love. Well, I love You, Aunt Joan!... Thanks for entrusting me with the secret of knowing what you do, because… It's Real-life and unlike others. 
Forever Grateful - Jordan Patterson (Your Nephew & Nancy-Lou's son) 
Please LIKE, LOVE, & SHARE! 
Music, Life, Love And The Arts | Stories About Real-Life Living by Jordan Patterson | March 2020. 
#jordanpattersonartist #love #respect #family #forgive #acceptance